Stripe is a payment platform that allows businesses to manage payments in a safe and easy way. By connecting Nudgify with Stripe, you can create Social Proof notifications that show recent purchases on your website. 
How Do I Combine Nudgify With Stripe?
Step 1. Copy and paste the Nudgify Webhook in your Stripe account
Click the Integrations button on the left-hand sidebar.
Find Stripe in the list of integrations and click Connect.
You will see a set of instructions for registering the Nudgify Webhook in your Stripe account. Copy the webhook from the box.
In your Stripe account, go to Developers > Webhooks and select Add Endpoint.
Paste your Nudgify webhook into the 'Endpoint URL' field.
Based on your Stripe configuration, select the most relevant event from the 'Events to send' menu. Choose one of the following events:customer.subscription.created
checkout.session.completed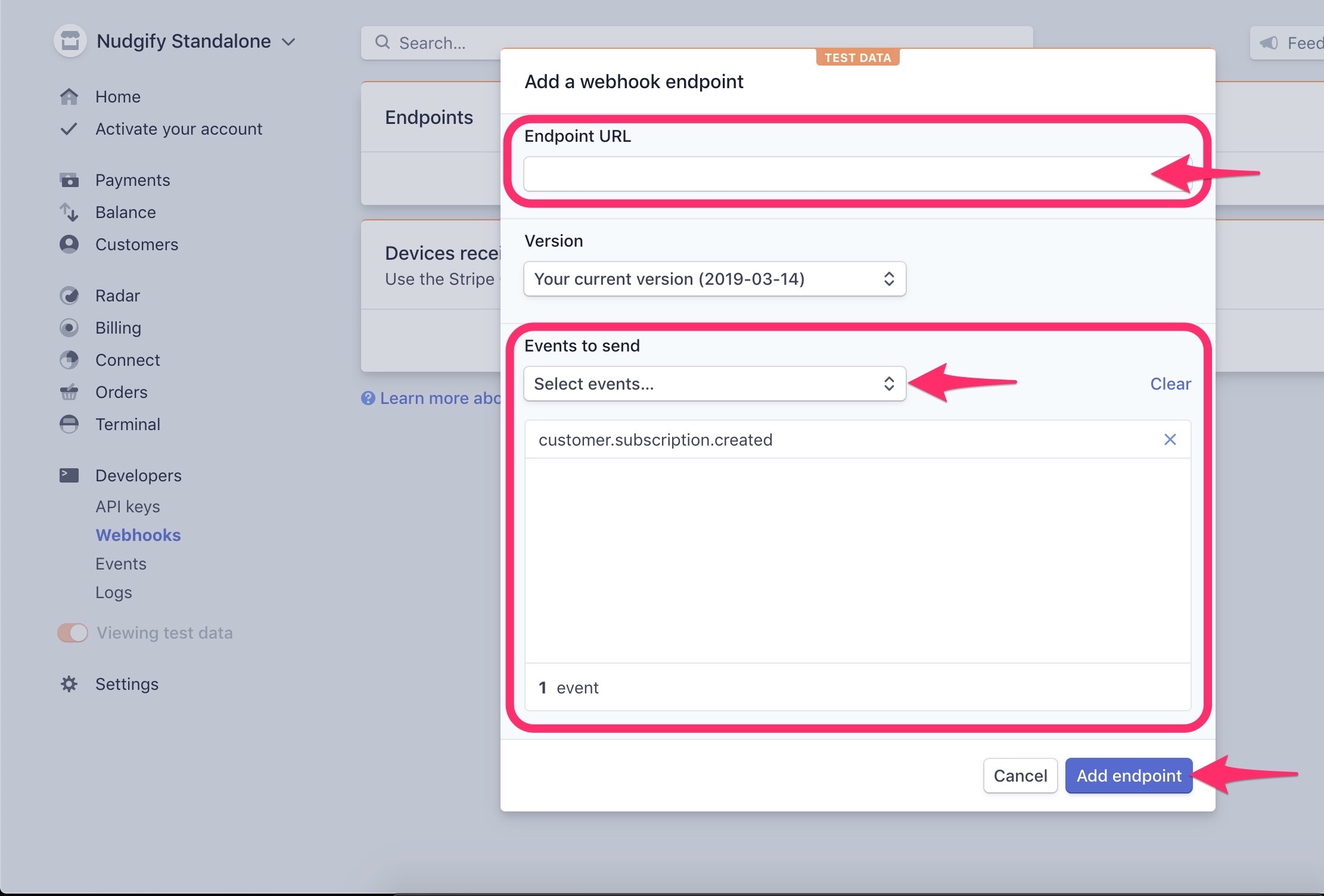 Step 2. Add the Stripe API Key to Nudgify
In your Stripe account, go to Developers > API Keys.
Toggle the button View test data off.
Find your Secret key and click Reveal live key.

Copy the live key (it should start with sk_live_)

Paste it in the Stripe Api Key field on the Stripe integrations page in your Nudgify account. You can find it in Integrations > Stripe.
Click Connect
Congratulations! Your Stripe account is now linked to Nudgify. New Stripe purchases will now be send to Nudgify. On your Data Feeds page, you can see your Stripe purchases coming in. Find out what your Data Feeds are.
Step 3. Add Purchase Nudges
Now that your Stripe account is connected, it's time to start showcasing recent purchases in Nudges.
Go to the Nudges page, pick a Stream, and click "Add Nudge".
Choose the Recent Activity Nudge to add these Nudges to your targeted pages. You can show single purchases, with the name and location of each customer, or a count of all recent purchases.
Select Stripe as the data source of your purchases
Choose your settings and click Continue to add your Nudge.
That's it! Your new Stripe purchases will now show in a Social Proof Nudge on your site!
Which Stripe data can I show in the Nudge?
In order for us to create a Purchase Nudge with your Stripe data, we need, at the very minimum, the following data:
If you collect this data in Stripe, we can also show the following additional information in the Nudge:
customer name
customer country + state/city (to show their location)
product name (this can be a product, subscription, plan, etc.)
Check in your Stripe set-up if you collect the data you want to show with your Stripe event.
Which data can I not show with Stripe?
It is not possible to get the following data via the Stripe integration:
product image
product url
This means that it is not possible to show a dynamic product image (product image that differs per product) and that it is not possible to link to the product page from the product name in the Nudge.
Can I show my existing Stripe purchases?
As per our Stripe agreement, it is not possible to connect your existing purchases to Nudgify. We only connect new purchases to Nudgify, that were made after you set up the connection between Stripe and Nudgify.